Spike Tool Inc offers both carbon steel and stainless-steel Spike Tools. Both tools are available in two sizes for different cable diameters. Spike Tool is available to accomodate cable diameter sizes, from 0 to 2-3/4 inches (small tool) and from 1.5 to 3-1/2 inches (large tool).
The original tool is made of carbon steel, is lower cost, and has successfully been operated and tested in the field for over 45 years. The carbon steel tool surface is finished in black oxide and is lightweight, weighing approximately 7 pounds (3.2 kgs).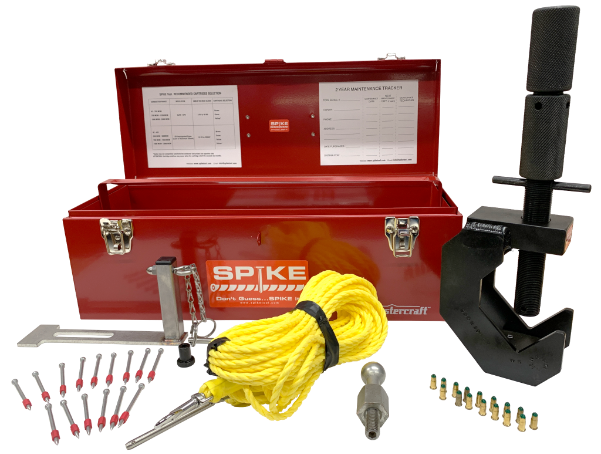 The Spike Tool package contains
SPIKE Tool Carrying Case

The SPIKE Tool (2-3/4" cable diameter or 3-1/2" cable diameter)

30 Cable Spikes

60 Cartridges in Three Power Load Strengths (Brown 10/Green 30/Yellow 20)

Ramrod

25mm Ball Stud for Bonding to Ground

Operations Manual available for download online

Lanyard pin guide and lanyard
The tool comes ready to operate and has a 1-year warranty from the date of purchase.
The tool also comes complete with all supplies as shown above.
The Lanyard Pin guide is not included with the Original Tool kit however, one can be ordered and added to the kit for those situations where there is a need for more flexible operation in tight spaces. This is particularly useful if the tool is used on cable in "hard to reach" places such as in electrical vaults or cable trays.
The guide is new and allows the tool to be activated from any angle.
SPIKE Tools shipped prior to March 21, 2021 require a retrofit to accommodate the guide which can be upgraded when the Spike Tool is ordered or during the bi-annual maintenance check (Click here). The maintenance program requires the tool be sent to the manufacturer. As part of the cost of the refurbishing the cost of the lanyard pin guide (including lanyard) will be added to the maintenance cost.
Our "manufacturer maintenance program" for all our tools, recommends the tool to be refurbished every two years by the manufacturer. This maintenance restores the tool to its original condition and ensures the highest tool performance for safe cable spiking operation. The Spike tool is guaranteed for 1 year after maintenance. More questions? Call one of our distributors. click here
SPIKE Tool is designed to pierce a single conductor cable's insulation and create a cable fault if the cable is energized. Bonding SPIKE Tool to a solid system ground is important to provide a path for fault current to operate system protection, should an energized cable be spiked.
SPIKE Tool should be bonded to ground by using the 25mm ball stud provided or the split bolt connector supplied prior to July 2018. Using 1/0 AWG copper for the split bolt connector should be limited to system fault currents not exceeding 10k Amps. The 25mm ball stud is able to handle fault currents up to 20k Amps. Click here for the Lab Test. This test constitutes a part of the manual and should be read carefully before field use of SPIKE Tool.

Don't Risk it... SPIKE it!