NEW From SPIKE TOOL —Our Strongest Tool yet
We are pleased to announce an addition to the Spike Tool family. We have carefully designed a new stainless-steel tool which is our strongest tool yet. After years of experience in the field there is one thing we have learned. The Spike Tool is used in some pretty harsh conditions. This includes damp, muddy, and wet environments. Our original Spike Tool has held up well. In time however, depending on the operating environment, carbon steel can lead to rusting. This is why our maintenance program is so important to maintaining peak safety performance.
Our new stainless steel SPIKE Tool has been designed to maintain its appearance for operating environments where the tool may get wet, or operate in humid or muddy environments. Additionally, the stainless-steel tool lowers biannual maintenance costs by eliminating certain procedures during maintenance leading to lower maintenance costs thereby offsetting its slightly higher cost of purchase. In short, our stainless steel tool has an initial higher cost however is very economical in the long run.
The stainless-steel version is available to accomodate cable diameter sizes, from 0 to
2-3/4 inches (small tool) and from 1.5 to 3-1/2 inches (large tool).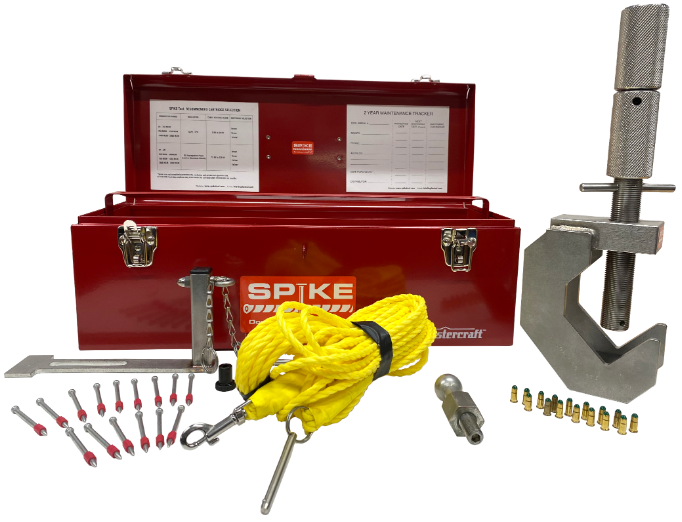 The complete SPIKE Tool Stainless-Steel package includes the following:

SPIKE Tool Carrying Case

The Stainless steel SPIKE Tool (2-3/4" cable diameter or 3-1/2" cable diameter)
30 Cable Spikes
60 Cartridges in Three Power Load Strengths (Brown 10/Green 30/Yellow 20)
Ramrod
25mm Ball Stud for Bonding to Ground
Operations Manual available for download
Lanyard pin guide and lanyard
The tool is guaranteed for 2 years from the date of purchase.
The tool also comes complete with a new Lanyard pin guide (put in link to Lanyard pin guide operating manual). This guide is available on all SPIKE Tools shipped after March 21, 2021.
The guide is new and allows the tool to be activated from any angle. This is particularly useful if the tool is used in "hard to reach" places when spiking such as in electrical vaults or cable trays.
Our "manufacturer maintenance program" for all our tools, recommends the tool to be refurbished every two years by the manufacturer. This maintenance restores the tool to its original condition and ensures the highest tool performance for safe cable spiking operation. The Spike tool is guaranteed for 1 year after maintenance. More questions? Call one of our distributors. Click here
SPIKE Tool is designed to pierce a cable's insulation and create a cable fault if the cable is energized. Bonding SPIKE Tool to a solid system ground is important to provide a path for fault current to operate system protection, should an energized cable be spiked.
SPIIKE Tool should be bonded to ground by using the 25mm ball stud provided or the split bolt connector supplied prior to July 2018. Using 1/0 AWG copper for the split bolt connector should be limited to system fault currents not exceeding 10k Amps. The 25mm ball stud is able to handle fault currents up to 20k Amps. Click here for the Lab Test. This test constitutes a part of the manual and should be read carefully before field use of SPIKE Tool.

Don't Risk it... SPIKE it!