It is critical to ensure #1 that the hammer cap is secure and tight at all times when SPIKE is in use. A loose hammer cap can lead to spurious firing of the tool. This should be checked before each tool use.
SPIKE Tool Repair & Maintenance
To ensure 100% safe operating efficiency, the manufacturer recommends maintenance of the SPIKE Tool every two years. The internal parts of the SPIKE Tool will wear with continued use over time or have reduced functionality due to operating in harsh field environments.
SPIKE Tool Inc will maintain your SPIKE Tool for you. Ship your tool to your SPIKE Tool Distributor for a manufacturer inspection and overhaul. An estimate for repair and maintenance will be provided for your approval before commencing work.
The SPIKE Tool will be restored to peak operating performance. There is a one-year manufacturer maintenance warranty, the same as a newly purchased tool.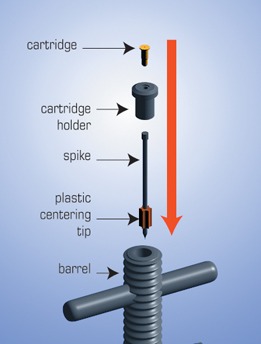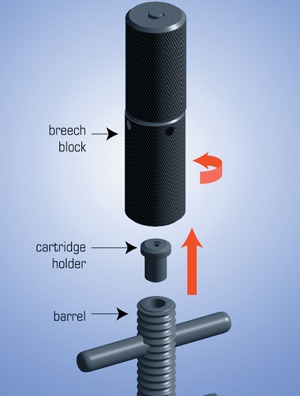 Hammer Cap
Breech Cap
Lanyard Pin & Lanyard
Breech Block
Barrel 'T' Handle
Barrel
Tapped Mounting Hole for 25mm Ball Stud (Limit: 20kA) or Split Bolt Connector 1/0 AWG Copper (Limit: 10KA) for Bonding to Ground
Barrel Guide
Barrel Safety Stop
Cable Clamp
Safety Striker Plate 3/8"
2 Allen Screws 5/32"
Hammer
Hammer Spring
Firing Pin Assembly
Cartridge Holder
Power Load
Spike
Allen Screw 1/8"
Allen Screw 5/64"