The SPIKE cable spiking tool is shipped fully equipped for 30 spiking operations. Designed for lightweight portability for transport and use in field maintenance, the SPIKE Tool components are:
SPIKE Tool Carrying Case
The SPIKE Tool
30 Cable Spikes
60 Cartridges in Three Power Load Strengths (B 10/G 30/ Y 20)
one of each of the following: 5/32" allen wrench, 1/8" allen wrench, 5/64" allen wrench
Lanyard Pin Attached to a 40' Lanyard
Ramrod
25mm Ball Stud for Bonding to Ground
Operations Manual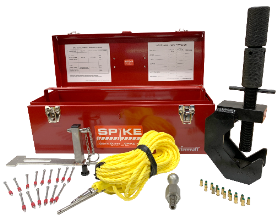 Please e-mail Ron Mock, President, SPIKE Tool Inc, directly to discuss cable piercing, line-worker safety, and the SPIKE Tool: president@spiketool.com
Information & Customer Service
Order The SPIKE Tool & Parts
Order the SPIKE Tool and parts directly from one of the listed authorized SPIKE Tool distributors below:
Global Distributor

(Including Canada)
Distributors (Canada Only)
Jubb Utility Supply Ltd.
1245 Maple Hill Court, Unit 8
Newmarket, ON, Canada
L3Y 9E8
Tel: (905) 898-5822
Fax: (905) 898-7200
Toll free: (855) 222-5822
E-mail: sales@jubbutility.com
Website: www.jubbutility.com
Distributors (Canada Only)
Landace Hydraulics
4376 Elgin Road
Mossley, ON, Canada
N0L 1V0
Tel: (519) 269-3020
Fax: (519) 269-9902
E-mail: landace@sympatico.ca

During the first year after purchase, or after bi-annual maintenance by the manufacturer all SPIKE Tool parts that the company finds defective in material or workmanship will be replaced by SPIKE Tool Inc free of charge, including labor and costs of shipping and handling.
No further warranty, expressed or implied, in connection with SPIKE is given and the company's sole liability consists in replacing or repairing parts under warranty.
The warranty is null and void if incorrect selection of cartridges or spikes results in equipment damage. Cartridges and spikes must be selected in accordance with the Operations Manual.
The maintenance program is highly recommended. SPIKE Tool Inc will perform a full maintenance program on your SPIKE every two years.
Hours of Operation
Monday – Friday, 9:00 a.m. – 5:00 p.m.

Address
25 Broadway Avenue, Unit 2301
Toronto, ON
M4P 1T7

©2005 - 2021 SPIKE Tool Inc