Spike Tool has introduced a much easier way to activate the Spike Tool from any location.
When you have to spike a cable in restricted physical conditions while maintaining a 35 foot distance from the spike location such as in an electrical vault or cable tray, the lanyard pin guide is the answer.
The original Spike Tool design required the lanyard pin to be pulled directly at a right angel to the tool. With the new lanyard pin guide the lanyard pin can now be pulled from any angle making Spike Tool easy to operate from a distance. The lanyard pin guide is attached to the Spike Tool as shown below. All other operating procedures outlined in the tool's operating manual (Click here) remain the same. The lanyard pin guide uses the ball stud, which is used for bonding to ground, to anchor the guide to the tool.
A lanyard pin is available for the regular sized tool (cable diameter up to 2-3/4"/6.99 cm) and for the large tool (cable diameter up to 3-1/2"/8.9 cm). The figure below highlights the lanyard pin guide and its attachment to the tool using the ball stud. Even a vertical pull can be accommodated to activate the tool.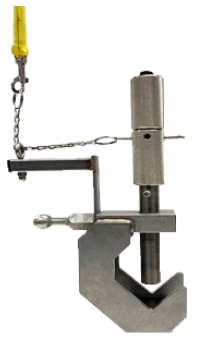 The lanyard pin guide is included with all Spike Tool orders after Mar 21, 2021. Lanyard pin guides are available at a small cost for all Spike Tools sold prior to this date.
They require a minor retrofit which we recommend to be accomplished when your tool is sent in for bi-annual maintenance unless you need to use the guide sooner.
The lanyard pin guide comes complete with the double end lanyard (a pull pin on one end of the lanyard and a latch hook on the other end of the lanyard) which allows the tool to be used as it was in the original design or with the lanyard pin guide for more difficult physical circumstances requiring activating Spike Tool from more unique angles.
The lanyard pin guide is made from stainless-steel and is very durable in all operating environments. Lanyard pin guides are available for both sizes of Spike Tool and for both our Original and Stainless-steel spike tool models.
Don't Risk it... SPIKE it!